EXTRAVAGANZA

Haute Couture To Dress Time
Much as in the world of haute couture which unites a range of artisans in giving shape to the most sophisticated ideas, BEDAT & CO GENEVE embodies a wealth of artistic crafts that give life to its watch models.
These stunningly rare pieces compose an anthem to the scrupulous care and authenticity of Swiss know-how. Miniature marvels blending delicate stylishness and virtuoso dexterity, they eloquently express the inherent refinement of BEDAT & CO GENEVE.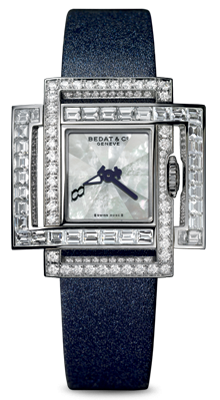 Ref.188.550.910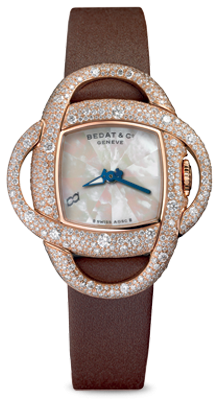 Ref.288.450.910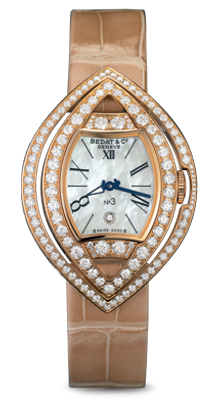 Ref.325.450.900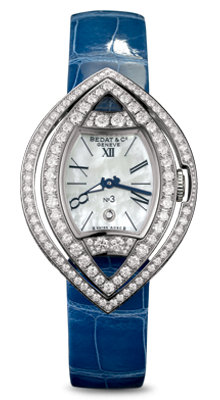 Ref.325.550.900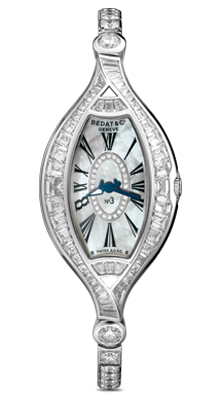 Ref.327.555.909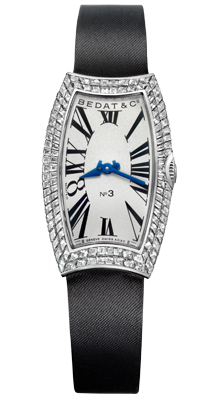 Ref.328.550.600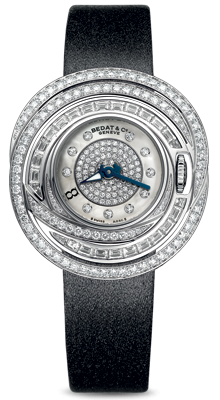 Ref.881.560.999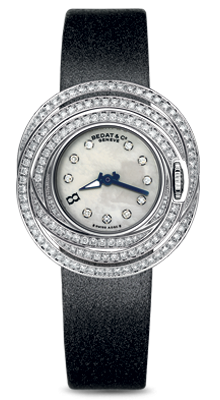 Ref.880.550.909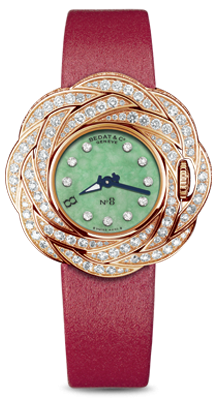 Ref.882.450.929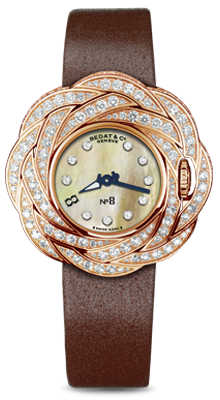 Ref.882.450.949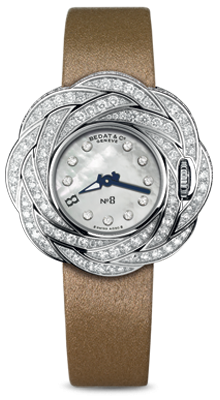 Ref.882.550.909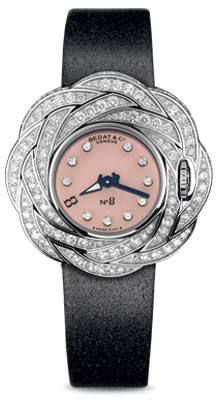 Ref.882.550.969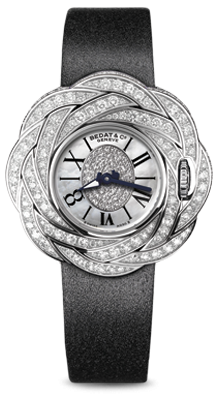 Ref.882.550.989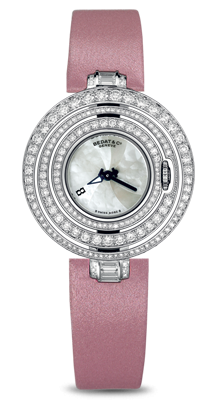 Ref.883.550.910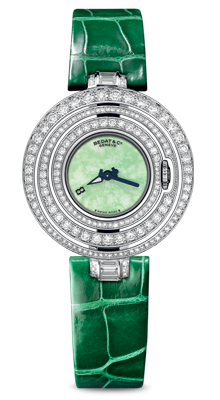 Ref.883.550.920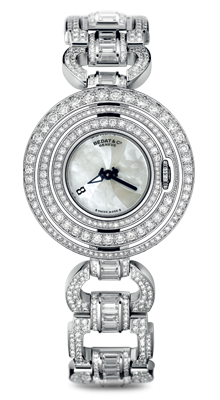 Ref.883.555.910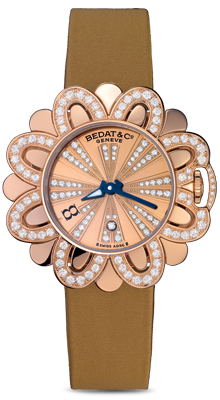 Ref.887.430.189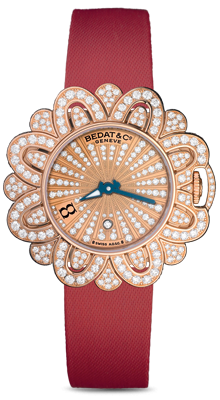 Ref.887.450.000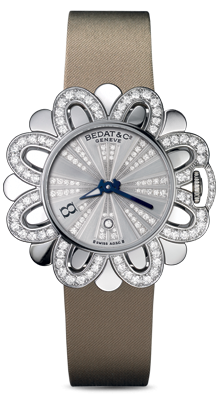 Ref.887.530.189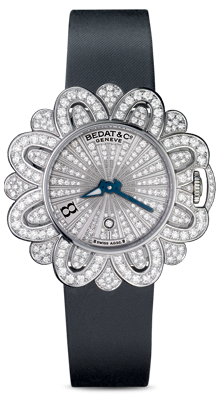 Ref.887.550.000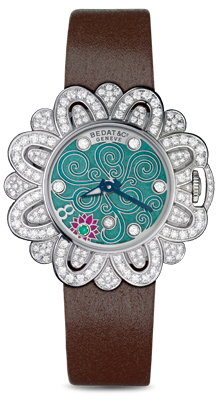 Ref.887.550.E01
Ref.188.550.910

BEDAT & Co A.O.S.C.® certificate
Extravaganza
Square-shaped case
Case: 31.70 x 33.00 mm
Crown integrated within the caseband
Sapphire crystal + inside face with anti-reflection coating
Quartz movement
ETA caliber 47/8 E01.001
Water resistance tested at 5 ATM



18-carat solid palladium white gold case
Case set with 496 diamonds (carat weight approx. 2.340 ct) and 34 baguette-cut-diamonds (carat weight approx. 3.270 ct)
12 Mother-of-pearl segments dial
BEDAT & Co blued steel hand
BEDAT & Co luminescent blued steel hand
Rolled-edge satin strap
18-carat palladium white gold pin buckle set with 66 diamonds (carat weight approx.0.260 ct)
Total carat weight: approx. 5.870 ct

Ref.288.450.910

BEDAT & Co A.O.S.C.® certificate
Extravaganza
Oval-shaped case
Case: 38.00 x 44.00 mm
See through Sapphire Exhibition Caseback
Crown integrated within the caseband
Sapphire crystal + inside face with anti-reflection coating
Mechanical hand winding personalized BEDAT & Co movement
ETA caliber 73/4 2660
Water resistance tested at 5 ATM



18-carat solid rose gold case
Case set with 957 diamonds
12 Mother-of-pearl segments dial
BEDAT & Co blued steel hand
BEDAT & Co luminescent blued steel hand
Rolled-edge satin strap
18-carat rose gold pin buckle set with 66 diamonds
Total carat weight: approx. 4.750 ct

Ref.325.450.900

BEDAT & Co A.O.S.C.® Certificate
Extravaganza
Tonneau-shaped case, waisted at 6 and 12 o'clock
Unique rotating diamond at the 6 o'clock position
See through Sapphire Exhibition Caseback
Case: 36.00 X 51.50 mm
Crown integrated within the caseband
Sapphire crystal + inside face with anti-reflection coating
Mechanical hand winding personalized BEDAT & Co movement
ETA caliber 101/2 7001
Approximately 42-hours power reserve
Water resistance tested at 5 ATM



18-carat solid rose gold case
Full pavé case set with 312 diamonds
Mother-of-pearl pearlized dial with reflector at 6 o'clock
Black Roman numerals
BEDAT & Co luminescent blued steel hands
Rolled-edge hand-stitched alligator strap
18-carat rose gold pin buckle set with 66 diamonds
Total carat weight: approx. 6.064 ct

Ref.325.550.900

BEDAT & Co A.O.S.C.® Certificate
Extravaganza
Tonneau-shaped case, waisted at 6 and 12 o'clock
Case: 36.00 X 51.50 mm
See through Sapphire Exhibition caseback
Crown integrated within the caseband
Unique rotating diamond at the 6 o'clock position
Sapphire crystal + inside face with anti-reflection coating
Mechanical hand winding personalized BEDAT & Co movement
ETA caliber 101/2 7001
Approximately 42-hours power reserve
Water resistance tested at 5 ATM



18-carat solid palladium white gold case
Full pavé case set with 312 diamonds
Mother-of-pearl pearlized dial with reflector at 6 o'clock
Black Roman numerals
BEDAT & Co luminescent blued steel hands
Rolled-edge hand-stitched alligator strap
18-carat palladium white gold pin buckle set with 66 diamonds
Total carat weight: approx. 6.064 ct

Ref.327.555.909

BEDAT & Co A.O.S.C.® Certificate
Extravaganza
Tonneau-shaped case, waisted at 6 and 12 o'clock
See through Sapphire Exhibition Caseback
Case: 25.50 X 32.50 mm
Crown integrated within the caseband
Sapphire crystal + inside face with anti-reflection coating
Mechanical hand winding personalized BEDAT & Co movement
AS caliber 51/2 1977
Water resistance tested at 5 ATM



18-carat solid palladium white gold case
Case set with 50 baguette-cut-diamonds, carat weight: approx. 4.220 ct
Mother-of-pearl pearlized dial, central ovale zone set with 28 diamonds
Black Roman numerals
BEDAT & Co luminescent blued steel hands
18-carat solid white gold bracelet set with 38 diamonds
Total carat weight: approx. 10.782 ct

Ref.328.550.600

BEDAT & Co A.O.S.C.® Certificate
Elongated tonneau-shaped case, waisted at 6 o'clock and 12 o'clock
Case: 22.75 x 36.45 mm
Thumbtack crown
Sapphire crystal
Quartz movement
ETA caliber 976.001
Water resistance tested at 5 ATM

18-carat solid white gold case
Bezel and caseband set with 203 baguette cut diamonds
Silvery-finished dial
Black Roman numerals
BEDAT & Co blued steel hands
Rolled edge satin strap
18-carat white gold pin buckle set with 38 diamonds
Total carat weight: approx. 4.28ct

Ref.881.560.999

BEDAT & Co A.O.S.C.® certificate
Extravaganza
Round case
Case: 35.00 mm
Crown integrated within the caseband
Sapphire crystal
Quartz movement
ETA caliber 73/4 956.032
Water resistance tested at 3 ATM



18-carat solid white gold case
Case set with 217 diamonds (Carat weight : approx. 2.420 ct) and 26 baguette-cut diamonds (Carat weight: approx. 1.580 ct)
Dial set with 90 diamonds (Carat weight: approx. 0.360 ct)
Mother-of-pearl dial
BEDAT & Co blued steel hand
BEDAT & Co luminescent blued steel hand
Rolled-edge satin strap
18-carat white gold pin buckle set with 164 diamonds (Carat weight: approx. 0.720 ct)
Total carat weight: approx. 5.080 ct

Ref.880.550.909

BEDAT & Co A.O.S.C.® certificate
Extravaganza
Round case
Case: 33.20 mm
Crown integrated within the caseband
Sapphire crystal
Quartz movement
ETA caliber 73/4 956.032
Water resistance tested at 3 ATM



18-carat solid white gold case
Case set with 252 diamonds
Mother-of-pear dial
10 diamond hour-markers
BEDAT & Co blued steel hand
BEDAT & Co luminescent blued steel hand
Rolled-edge satin strap
18-carat white gold pin buckle set with 42 diamonds
Total carat weight: approx. 2.940 ct

Ref.882.450.929

BEDAT & Co A.O.S.C.® certificate
Extravaganza
Round case
Case: 36.40 mm
Crown integrated within the caseband
Sapphire crystal + inside face with anti-reflection coating
Quartz Movement
ETA caliber 73/4 956.032
Water resistance tested at 5 ATM



18-carat solid rose gold case
Case set with 243 diamonds
Jade dial
10 diamonds hour-markers
BEDAT & Co blued steel hand
BEDAT & Co luminescent blued steel hand
Rolled-edge satin strap
18-carat rose gold pin buckle set with 66 diamonds
Total carat weight: approx. 3.410 ct

Ref.882.450.949

BEDAT & Co A.O.S.C.® certificate
Extravaganza
Round case
Case: 36.40 mm
Crown integrated within the caseband
Sapphire crystal + inside face with anti-reflection coating
Quartz Movement
ETA caliber 73/4 956.032
Water resistance tested at 5 ATM



18-carat solid rose gold case
Case set with 243 diamonds
Gold mother-of-pearl pearlized dial
10 diamond hour-markers
BEDAT & Co blued steel hand
BEDAT & Co luminescent blued steel hand
Rolled-edge satin strap
18-carat rose gold pin buckle set with 66 diamonds
Total carat weight: approx. 3.410 ct

Ref.882.550.909

BEDAT & Co A.O.S.C.® certificate
Extravaganza
Round case
Case: 36.40 mm
Crown integrated within the caseband
Sapphire crystal + inside face with anti-reflection coating
Quartz Movement
ETA caliber 73/4 956.032
Water resistance tested at 5 ATM



18-carat solid palladium white gold case
Case set with 243 diamonds
White mother-of-pearl pearlized dial
10 diamond hour-markers
BEDAT & Co luminescent blued steel hand
BEDAT & Co blued steel hand
Rolled-edge satin strap
18-carat palladium white gold pin buckle set with 66 diamonds
Total carat weight: approx. 3.410 ct

Ref.882.550.969

BEDAT & Co A.O.S.C.® certificate
Extravaganza
Round case
Case: 36.40 mm
Crown integrated within the caseband
Sapphire crystal + inside face with anti-reflection coating
Quartz Movement
ETA caliber 73/4 956.032
Water resistance tested at 5 ATM



18-carat solid palladium white gold case
Case set with 243 diamonds
Pink opal dial
10 diamond hour-markers
BEDAT & Co blued steel hand
BEDAT & Co luminescent blued steel hand
Rolled-edge satin strap
18-carat palladium white gold pin buckle set with 66 diamonds
Total carat weight: approx. 3.410 ct

Ref.882.550.989

BEDAT & Co A.O.S.C.® certificate
Extravaganza
Round case
Case: 36.40 mm
Crown integrated within the caseband
Sapphire crystal + inside face with anti-reflection coating
Quartz movement
ETA caliber 73/4 956.032
Water resistance tested at 3 ATM



18-carat solid palladium white gold case
Case set with 243 diamonds
Dial set with 56 diamonds
Mother-of-pearl dial
Black Roman numerals
BEDAT & Co blued steel hand
BEDAT & Co luminescent blued steel hand
Rolled-edge satin strap
18-carat white gold pin buckle set with 66 diamonds
Total carat weight: approx. 3.530 ct

Ref.883.550.910

BEDAT & Co A.O.S.C.® certificate
Extravaganza
Round case
Case: 34.70 mm
Crown integrated within the caseband
Sapphire crystal
Quartz Movement
ETA caliber 51/2 976.001
Water resistance tested at 5 ATM



18-carat solid palladium white gold case
Case set with 265 diamonds (carat weight: approx. 2.940 ct) and 6 baguette-cut diamonds (carat weight: approx. 0.450 ct)
12 Mother-of-pearl segments dial
BEDAT & Co blued steel hand
BEDAT & Co luminescent blued steel hand
Rolled-edge satin strap
18-carat palladium white gold pin buckle set with 66 diamonds
Total carat weight: approx. 3.650 ct

Ref.883.550.920

BEDAT & Co A.O.S.C.® certificate
Extravaganza
Round case
Case: 34.70 mm
Crown integrated within the caseband
Sapphire crystal
Quartz Movement
ETA caliber 51/2 976.001
Water resistance tested at 5 ATM



18-carat solid palladium white gold case
Case set with 265 diamonds (carat weight: approx. 2.940 ct) and 6 baguette-cut diamonds (carat weight: approx. 0.450 ct)
12 Jade segments dial
BEDAT & Co blued steel hand
BEDAT & Co luminescent blued steel hand
Rolled-edge hand stitched alligator strap
18-carat palladium white gold pin buckle set with 66 diamonds
Total carat weight: approx. 3.650 ct

Ref.883.555.910

BEDAT & Co A.O.S.C.® certificate
Extravaganza
Round case
Case: 34.20 mm
Crown integrated within the caseband
Sapphire crystal
Quartz movement
ETA caliber 51/2 976.001
Water resistance tested at 3 ATM



18-carat solid white gold case
Case set with 265 diamonds (Carat weight: approx. 2.900 ct) and 6 baguette-cut diamonds (Carat weight: approx. 0.450 ct)
12 Mother-of-pearl segments dial
BEDAT & Co blued steel hand
BEDAT & Co luminescent blued steel hand
18-carat white gold bracelet set with 606 diamonds (Carat weight : approx. 3.100 ct) and 40 baguette-cut diamonds (Carat weight: approx. 4.400 ct)
Total carat weight: approx. 10.850 ct

Ref.887.430.189

BEDAT & Co A.O.S.C.® certificate
Extravaganza
Round case
See through Sapphire Exhibition Caseback
Case: 38.50 mm
Crown integrated within the caseband
Sapphire crystal + inside face with anti-reflection coating
Mechanical hand winding personalized Bedat & Co movement
ETA caliber 101/2 7001
Approximately 42-hours power reserve
Water resistance tested at 5 ATM



18-carat solid rose gold case
Case set with 139 diamonds
Dial set with 69 diamonds
Unique rotating diamond at the 6 o'clock position
BEDAT & Co blued steel hand
BEDAT & Co luminescent blued steel hand
Rolled-edge satin strap
18-carat rose gold pin buckle set with 42 diamonds
Total carat weight: approx. 2.053 ct

Ref.887.450.000

BEDAT & Co A.O.S.C.® certificate
Extravaganza
Round case
See through Sapphire Exhibition Caseback
Case: 38.50 mm
Crown integrated within the caseband
Sapphire crystal + inside face with anti-reflection coating
Mechanical hand winding personalized BEDAT & Co movement
ETA caliber 101/2 7001
Approximately 42-hours power reserve
Water resistance tested at 5 ATM



18-carat solid rose gold case
Full pavé case set with 271 diamonds
Dial set with 108 diamonds
Unique rotating diamond at the 6 o'clock position
BEDAT & Co blued steel hand
BEDAT & Co luminescent blued steel hand
Rolled-edge satin strap
18-carat rose gold pin buckle set with 42 diamonds
Total carat weight: approx. 3.000 ct

Ref.887.530.189

BEDAT & Co A.O.S.C.® Certificate
Extravaganza
Round case
See through Sapphire Exhibition Caseback
Case: 38.50 mm
Crown integrated within the caseband
Sapphire crystal + inside face with anti-reflection coating
Mechanical hand winding personalized BEDAT & Co movement
ETA caliber 101/2 7001
Approximately 42-hours power reserve
Water resistance tested at 5 ATM



18-carat solid palladium white gold case
Case set with 139 diamonds
Dial set with 69 diamonds
Unique rotating diamond at the 6 o'clock position
BEDAT & Co luminescent blued steel hand
BEDAT & Co blued steel hand
Rolled-edge satin strap
18-carat white gold pin buckle set with 42 diamonds
Total carat weight: approx. 2.053 ct

Ref.887.550.000

BEDAT & Co A.O.S.C.® Certificate
Extravaganza
Round case
See through Sapphire Exhibition Caseback
Case: 38.50 mm
Crown integrated within the caseband
Sapphire crystal + inside face with anti-reflection coating
Mechanical hand winding personalized BEDAT & Co movement
ETA caliber 101/2 7001
Approximately 42-hours power reserve
Water resistance tested at 5 ATM



18-carat solid palladium white gold case
Full pavé case set with 271 diamonds
Dial set with 108 diamonds
Unique rotating diamond at the 6 o'clock position
BEDAT & Co luminescent blued steel hand
BEDAT & Co blued steel hand
Rolled-edge satin strap
18-carat white gold pin buckle set with 66 diamonds
Total carat weight: approx. 3.000 ct

Ref.887.550.E01

BEDAT & Co A.O.S.C.® Certificate
Extravaganza
Round case
See through Sapphire Exhibition Caseback
Case: 38.50 mm
Crown integrated within the caseband
Sapphire crystal + inside face with anti-reflection coating
Mechanical hand winding personalized BEDAT & Co movement
ETA caliber 101/2 7001
Approximately 42-hours power reserve
Water resistance tested at 5 ATM
18-carat solid palladium white gold case
Case set with 271 diamonds
5 diamonds + 1 emerald hour-makers
Unique rotating diamond at the 6 o'clock position
18-carat solid palladium white gold dial
Dial, engraved by hand, flamé style
Enamel "Grand feu" executed by hand, one of a kind
BEDAT & Co luminescent blued steel hand
BEDAT & Co blued steel hand
Rolled-edge satin strap
18-carat palladium white gold pin buckle set with 66 diamonds
Total carat weight: approx. 2.700 ct