N°2

No 2 Collection is composed of oval-shaped models.

No 2 stands for union, for the meeting of two connected elements and most specifically in philosophy, for two complementary principles.
No 2 Collection is both timeless and resolutely contemporary, two aspects that are complementary and indeed inseparably entwined within the BEDAT & Co GENEVE philosophy.
Ref.227.031.600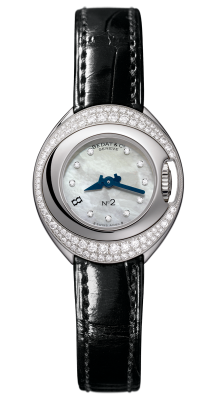 Ref.227.040.909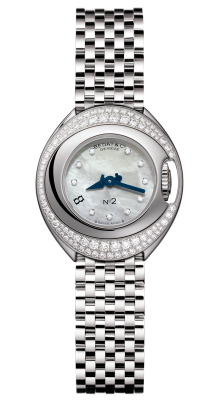 Ref.227.041.909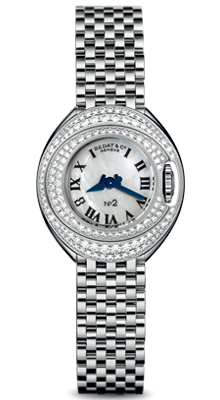 Ref.227.051.900
Ref.227.051.909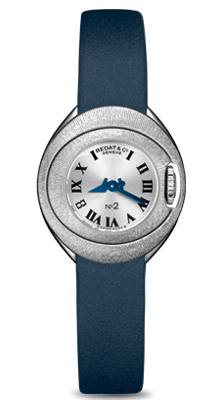 Ref.227.200.600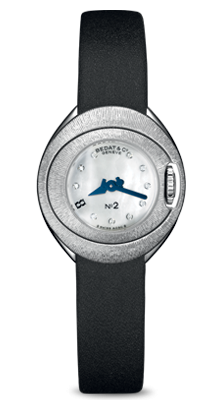 Ref.227.200.909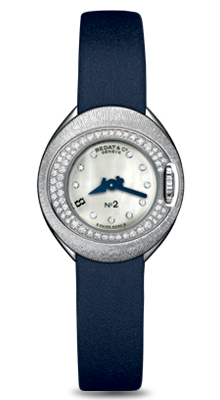 Ref.227.230.909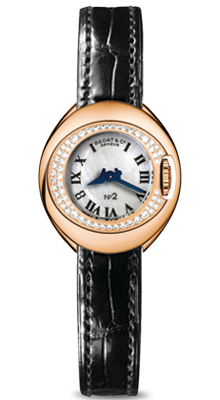 Ref.227.430.900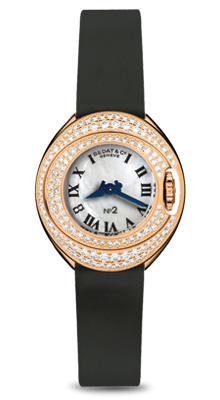 Ref.227.450.900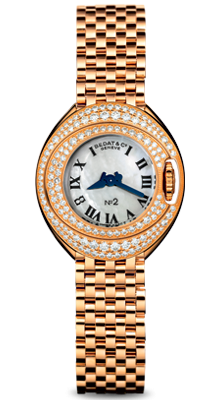 Ref.227.454.900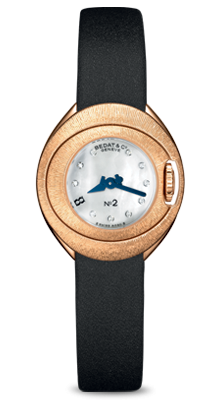 Ref.227.600.909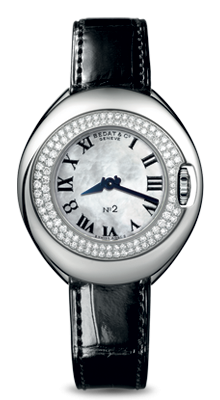 Ref.228.030.900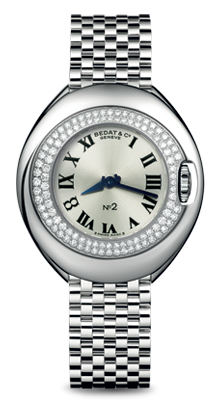 Ref.228.031.600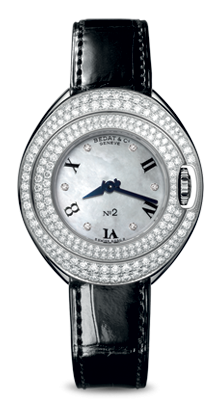 Ref.228.050.909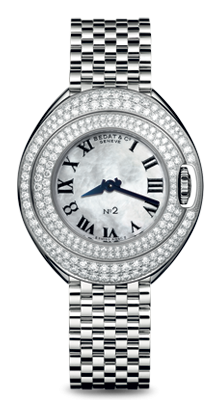 Ref.228.051.900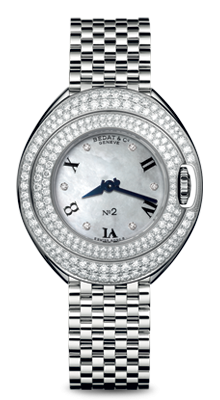 Ref.228.051.909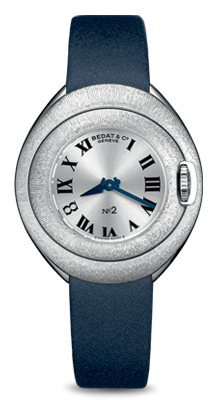 Ref.228.200.600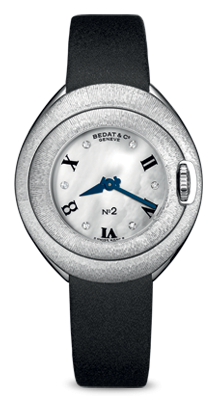 Ref.228.200.909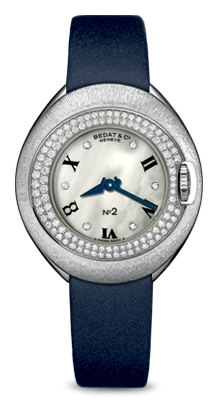 Ref.228.230.909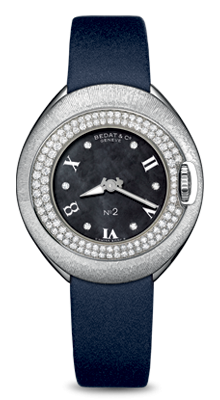 Ref.228.230.959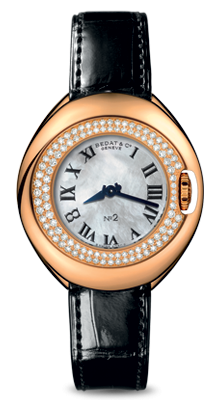 Ref.228.430.900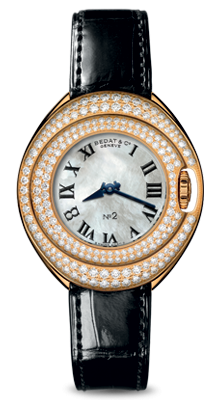 Ref.228.450.900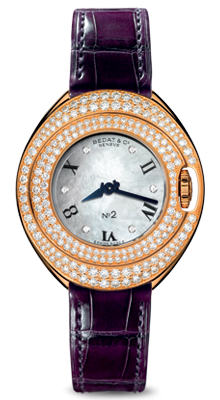 Ref.228.450.909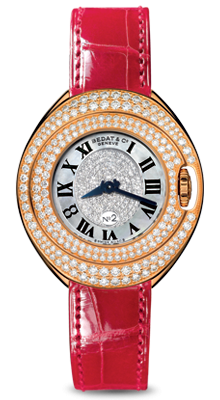 Ref.228.450.989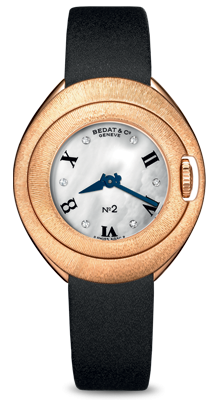 Ref.228.600.909
Ref.227.031.600

BEDAT & Co Swiss A.O.S.C.® certificate
Oval-shaped case, double bezel
Case: 26.50 mm
Crown integrated within the caseband
Sapphire crystal
Quartz movement
ETA caliber 51/2 976.001
Water resistance tested at 5 ATM

 

Stainless steel case
Internal bezel set with 59 diamonds
Silver sun brushed dial
Black Roman numerals
BEDAT & Co blued steel hands
Stainless steel "mille mailles" bracelet
Stainless steel folding clasp
Total carat weight: approx. 0.520 ct
Also available with a rolled-edge hand-stitched alligator strap, stainless steel folding buckle

Ref.227.040.909

BEDAT & Co A.O.S.C.® Certificate
Oval-shaped case, double bezel
Case: 26.50 mm
Crown integrated within the caseband
Sapphire crystal + inside face with anti-reflection coating
Quartz movement
ETA caliber 51/2 976.001
Water resistance tested at 5 ATM



Stainless steel case
External bezel set with 86 diamonds
Mother-of-pearl dial
10 diamond hour-markers
BEDAT & Co blued steel hands
Rolled-edge hand-stitched alligator strap
Stainless steel folding buckle
Total carat weight: approx. 0.760 ct

Ref.227.041.909

BEDAT & Co A.O.S.C.® Certificate
Oval-shaped case, double bezel
Case: 26.50 mm
Crown integrated within the caseband
Sapphire crystal + inside face with anti-reflection coating
Quartz movement
ETA caliber 51/2 976.001
Water resistance tested at 5 ATM



Stainless steel case
External bezel set with 86 diamonds
Mother-of-pearl dial
10 diamond hour-markers
BEDAT & Co blued steel hands
Stainless steel "mille mailles" bracelet
Stainless steel folding clasp
Total carat weight: approx. 0.760 ct

Ref.227.051.900

BEDAT & Co A.O.S.C.® certificate
Oval-shaped case, double bezel
Case: 26.50 mm
Crown integrated within the caseband
Sapphire crystal
Quartz movement
ETA caliber 51/2 976.001
Water resistance tested at 5 ATM



Stainless steel case
External and internal bezel set with 145 diamonds
Mother-of-pearl dial
Black Roman numerals
BEDAT & Co blued steel hands
Stainless steel "mille mailles" bracelet
Stainless steel folding clasp
Total carat weight: approx. 1.350 ct
Also available with a rolled-edge hand-stitched alligator strap, stainless steel folding buckle

Ref.227.051.909

BEDAT & Co A.O.S.C.® certificate
Oval-shaped case, double bezel
Case: 26.50 mm
Crown integrated within the caseband
Sapphire crystal
Quartz movement
ETA caliber 51/2 976.001
Water resistance tested at 5 ATM



Stainless steel case
External and internal bezel set with 145 diamonds
Mother-of-pearl dial
10 diamond hour-markers
BEDAT & Co blued steel hands
Stainless steel "mille mailles" bracelet
Stainless steel folding clasp
Total carat weight: approx. 1.370 ct
Also available with a rolled-edge hand-stitched alligator strap, stainless steel folding buckle

Ref.227.200.600

BEDAT & Co A.O.S.C.® certificate
Oval-shaped case, double bezel
Case: 26.50 mm
Stream handmade pattern bezel
Crown integrated within the caseband
Sapphire crystal + inside face with anti-reflection coating
Quartz movement
ETA caliber 51/2 976.001
Water resistance tested at 5 ATM



Stainless steel case
Silver-coloured sunbrushed dial
Black Roman numerals
BEDAT & Co blued steel hands
Rolled-edge satin strap
Stainless steel folding buckle

Ref.227.200.909

BEDAT & Co A.O.S.C.® certificate
Oval-shaped case, double bezel
Case: 26.50 mm
Crown integrated within the caseband
Stream handmade pattern bezel
Sapphire crystal + inside face with anti-reflection coating
Quartz movement
ETA caliber 51/2 976.001
Water resistance tested at 5 ATM



Stainless steel case
Mother-of-pearl dial
10 diamond hour-markers
BEDAT & Co blued steel hands
Rolled-edge satin strap
Stainless steel folding buckle
Total carat weight: approx. 0.020 ct

Ref.227.230.909

BEDAT & Co A.O.S.C.® certificate
Oval-shaped case, double bezel
Case: 26.50 mm
Crown integrated within the caseband
Sapphire crystal + inside face with anti-reflection coating
Quartz movement
ETA caliber 51/2 976.001
Water resistance tested at 5 ATM



Stainless steel case
Stream hand made pattern and bezel set with 59 diamonds
White mother-of-pearl dial
10 diamond hour-markers
BEDAT &Co blued steel hands
Rolled-edge satin strap
Stainless steel folding buckle
Total carat weight: approx. 0.480 ct

Ref.227.430.900

BEDAT & Co A.O.S.C.® certificate
Oval-shaped case, double bezel
Case: 26.50 mm
Crown integrated within the caseband
Sapphire crystal
Quartz movement
ETA caliber 51/2 976.001
Water resistance tested at 5 ATM



18-carat solid rose gold case
Internal bezel set with 59 diamonds
Mother-of-pearl dial
Black Roman numerals
BEDAT & Co blued steel hands
Rolled-edge hand-stitched alligator strap
18-carat rose gold cap and stainless steel folding buckle
Total carat weight: approx. 0.520 ct

Ref.227.450.900

BEDAT & Co A.O.S.C.® certificate
Oval-shaped case, double bezel
Case: 26.50 mm
Crown integrated within the caseband
Sapphire crystal
Quartz movement
ETA caliber 51/2 976.001
Water resistance tested at 5 ATM



18-carat solid rose gold case
External and internal bezel set with 145 diamonds
Mother-of-pearl dial
Black Roman numerals
BEDAT & Co blued steel hands
Rolled-edge satin strap
18-carat rose gold cap and stainless steel folding buckle
Total carat weight: approx. 1.350 ct

Ref.227.454.900

BEDAT & Co A.O.S.C.® certificate
Oval-shaped case, double bezel
Case: 26.50mm
Crown integrated within the caseband
Sapphire crystal
Quartz movement
ETA caliber 51/2 976.001
Water resistance tested at 5 ATM



18-carat solid rose gold case
External and internal bezel set with 145 diamonds
Mother-of-pearl dial
Black Roman numerals
BEDAT & Co blued steel hands
18-carat rose gold "mille mailles" bracelet
Stainless steel folding clasp
Total carat weight: approx. 1.350 ct
Also available with a rolled-edge hand-stitched alligator strap, stainless steel folding buckle

Ref.227.600.909

BEDAT & Co A.O.S.C.® certificate
Oval-shaped case, double bezel
Case: 26.50mm
Crown integrated within the caseband
Stream handmade pattern bezel
Sapphire crystal + inside face with anti-reflection coating
Quartz movement
ETA caliber 51/2 976.001
Water resistance tested at 5 ATM



18-carat solid rose gold case
Mother-of-pearl dial
10 diamond hour-markers
BEDAT & Co blued steel hands
Rolled-edge satin strap
18 carat rose gold cap and stainless steel folding buckle
Total carat weight: approx. 0.020 ct

Ref.228.030.900

BEDAT & Co A.O.S.C.® certificate
Oval-shaped case, double bezel
Case: 36.50 mm
Crown integrated within the caseband
Sapphire crystal
Quartz movement - long life battery
ETA caliber 73/4 M956.032
Water resistance tested at 5 ATM



Stainless steel case
Internal bezel set with 102 diamonds
Mother-of-pearl dial
Black Roman numerals
BEDAT & Co blued steel hands
Rolled-edge hand-stitched alligator strap
Stainless steel folding buckle
Total carat weight: approx. 1.450 ct
Also available with a stainless steel "mille mailles" bracelet, stainless steel folding clasp

Ref.228.031.600

BEDAT & Co A.O.S.C.® certificate
Oval-shaped case, double bezel
Case: 36.50 mm
Crown integrated within the caseband
Sapphire crystal
Quartz movement - long life battery
ETA caliber 73/4 M956.032
Water resistance tested at 5 ATM



Stainless steel case
Internal bezel set with 102 diamonds
Silver sun brushed dial
Black Roman numerals
BEDAT & Co blued steel hands
Stainless steel "mille mailles" bracelet
Stainless steel folding clasp
Total carat weight: approx. 1.450 ct
Also available with a rolled-edge hand-stitched alligator strap, stainless steel folding buckle

Ref.228.050.909

BEDAT & Co A.O.S.C.® certificate
Oval-shaped case, double bezel
Case: 36.50 mm
Crown integrated within the caseband
Sapphire crystal
Quartz movement - long life battery
ETA caliber 73/4 M956.032
Water resistance tested at 5 ATM



Stainless steel case
External and internal bezel set with 195 diamonds
Mother-of-pearl dial
6 diamond hour-markers
Black Roman numerals
BEDAT & Co blued steel hands
Rolled-edge hand-stitched alligator strap
Stainless steel folding buckle
Total carat weight: approx. 3.520 ct
Also available with a stainless steel "mille mailles" bracelet, stainless steel folding clasp

Ref.228.051.900

BEDAT & Co A.O.S.C.® certificate
Oval-shaped case, double bezel
Case: 36.50 mm
Crown integrated within the caseband
Sapphire crystal
Quartz movement - long life battery
ETA caliber 73/4 M956.032
Water resistance tested at 5 ATM



Stainless steel case
External and internal bezel set with 195 diamonds
Mother-of-pearl dial
Black Roman numerals
BEDAT & Co blued steel hands
Stainless steel "mille mailles" bracelet
Stainless steel folding clasp
Total carat weight: approx. 3.490 ct
Also available with a rolled-edge hand-stitched alligator strap, stainless steel folding buckle

Ref.228.051.909

BEDAT & Co A.O.S.C.® certificate
Oval-shaped case, double bezel
Case: 36.50 mm
Crown integrated within the caseband
Sapphire crystal
Quartz movement - long life battery
ETA caliber 73/4 M956.032
Water resistance tested at 5 ATM



Stainless steel case
External and internal bezel set with 195 diamonds
Mother-of-pearl dial
6 diamond hour-markers
Black Roman numerals
BEDAT & Co blued steel hands
Stainless steel "mille mailles" bracelet
Stainless steel folding clasp
Total carat weight: approx. 3.520 ct
Also available with a rolled-edge hand-stitched alligator strap, stainless steel folding buckle

Ref.228.200.600

BEDAT & Co A.O.S.C.® certificate
Oval-shaped case, double bezel
Case: 36.50 mm
Crown integrated within the caseband
Stream handmade pattern bezel
Sapphire crystal + inside face with anti-reflection coating
Quartz movement – Long life battery
ETA caliber 73/4 M956.032
Water resistance tested at 5 ATM



Stainless steel case
Silver-coloured sunbrushed dial
Black Roman numerals
BEDAT & Co blued steel hands
Rolled-edge satin strap
Stainless steel folding buckle

Ref.228.200.909

BEDAT & Co A.O.S.C.® certificate
Oval-shaped case, double bezel
Case: 36.50 mm
Crown integrated within the caseband
Stream handmade pattern bezel
Sapphire crystal + inside face with anti-reflection coating
Quartz movement – long life battery
ETA caliber 73/4 M956.032
Water resistance tested at 5 ATM



Stainless steel case
Mother-of-pearl dial
6 diamond hour-markers
BEDAT & Co blued steel hands
Rolled-edge satin strap
Stainless steel folding buckle
Total carat weight: approx. 0.030 ct

Ref.228.230.909

BEDAT &Co A.O.S.C.® certificate
Oval-shaped case, double bezel
Case: 36.50 mm
Crown integrated within the caseband
Stream handmade pattern bezel
Sapphire crystal + inside face with anti-reflection coating
Quartz movement – long life battery
ETA caliber 73/4 M956.032
Water resistance tested at 5 ATM



Stainless steel case
Stream handmade pattern bezel set with 102 diamonds
White mother-of-pearl dial
6 diamond hour-markers
Bedat & Co blued steel hands
Rolled-edge satin strap
Stainless steel folding buckle
Total carat weight: approx. 1.739 ct

Ref.228.230.959

BEDAT & Co A.O.S.C.® certificate
Oval-shaped case, double bezel
Case: 36.50 mm
Crown integrated within the caseband
Stream handmade pattern bezel
Sapphire crystal + inside face with anti-reflection coating
Quartz movement – long life battery
ETA caliber 73/4 M956.032
Water resistance tested at 5 ATM



Stainless steel case
Stream handmade pattern bezel set with 102 diamonds
Black mother-of-pearl dial
6 diamond hour-markers
Bedat & Co luminescent stainless steel hands
Rolled-edge satin strap
Stainless steel folding buckle
Total carat weight: approx. 1.739 ct

Ref.228.430.900

BEDAT & Co A.O.S.C.® certificate
Oval-shaped case, double bezel
Case: 36.50 mm
Crown integrated within the caseband
Sapphire crystal
Quartz movement - long life battery
ETA caliber 73/4 M956.032
Water resistance tested at 5 ATM



18-carat solid rose gold case
Internal bezel set with 102 diamonds
Mother-of-pearl dial
Black Roman numerals
BEDAT & Co blued steel hands
Rolled-edged hand-stitched alligator strap
18-carat rose gold cap with stainless steel folding buckle
Total carat weight: approx. 1.450 ct
Also available with an 18-carat rose gold "mille mailles" bracelet, stainless steel folding clasp

Ref.228.450.900

BEDAT & Co A.O.S.C.® certificate
Oval-shaped case, double bezel
Case: 36.50 mm
Crown integrated within the caseband
Sapphire crystal + inside face with anti-reflection coating
Quartz movement – Long life battery
ETA caliber 73/4 M956.032
Water resistance tested at 5 ATM



18 carat solid rose gold case
External and internal bezel set with 195 diamonds
Mother-of-pearl dial
Black Roman numerals
BEDAT & Co blued steel hands
Rolled-edge hand-stitched alligator strap
18-carat rose gold cap
Stainless steel folding buckle
Total carat weight: approx. 3.200 ct

Ref.228.450.909

BEDAT & Co A.O.S.C.® certificate
Oval-shaped case, double bezel
Case: 36.50 mm
Crown integrated within the caseband
Sapphire crystal
Quartz movement - long life battery
ETA caliber 73/4 M956.032
Water resistance tested at 5 ATM



18-carat solid rose gold case
External and internal bezel set with 195 diamonds
Mother-of-pearl dial
6 diamond hour-markers
Black Roman numerals
BEDAT & Co blued steel hands
Rolled-edge hand-stitched alligator strap
18-carat rose gold cap with stainless steel folding buckle
Total carat weight: approx. 3.520 ct
Also available with an 18-carat rose gold "mille mailles" bracelet, stainless steel folding clasp

Ref.228.450.989

BEDAT & Co A.O.S.C.® certificate
Oval-shaped case, double bezel
Case: 36.50 mm
Crown integrated within the caseband
Sapphire crystal
Quartz movement - long life battery
ETA caliber 73/4 M956.032
Water resistance tested at 5 ATM



18-carat solid rose gold case
External and internal bezel set with 195 diamonds
Mother-of-pearl dial
Dial set with 126 diamonds
Black Roman numerals
BEDAT & Co blued steel hands
Rolled-edge hand-stitched alligator strap
18-carat rose gold cap with stainless steel folding buckle
Total carat weight: approx. 4.850 ct
Also available with an 18-carat rose gold "mille mailles" bracelet, stainless steel folding clasp

Ref.228.600.909

BEDAT & Co A.O.S.C.® certificate
Oval-shaped case, double bezel
Case: 36.50 mm
Crown integrated within the caseband
Stream handmade pattern bezel
Sapphire crystal + inside face with anti-reflection coating
Quartz movement – long life battery
ETA caliber 73/4 M956.032
Water resistance tested at 5 ATM



18-carat solid rose gold case
Mother-of-pearl dial
6 diamond hour-markers
BEDAT & Co blued steel hands
Rolled-edge satin strap
18-carat rose gold cap and stainless steel folding buckle
Total carat weight: approx. 0.030 ct